Precision Stroboscopy - Full System Specifications
A medical grade isolation transformer provides protection via separate outputs for the light source and all ancillary equipment.
LIGHT SOURCE:

Lamp - High efficiency xenon lamp with integral mirror. Maximum input 300W.
Variable input energy 0.5J - 2J/flash at 50 Hz. UV rejection coating.
Flash duration - 10µs
Colour temp. - 12,000 K, for stroboscopic illumination mode
Lamp life - > 100 million flashes at 1 J/flash ( > 550 hours at 50 Hz)
PC:
P4 processor, 512 MB RAM, 300GB SATA HDD, 300GB external drive, DVD+RW

Broadcast standard RGB framegrabber card

3 way footswitch – Record start/stop, Mark/Grab, Playback

Windows XP professional
Laryngograph® PROCESSOR:
Microphone:
Omnidirectional (pressure sensitive) electret, +/- 2dB 100Hz to 10kHz noise level 26dB (SPLA), dynamic range 88dB
Laryngograph®:
Gold plated electrodes in small, medium and large sizes
Bandwidth:
+/- 1dB, 1Hz to 10kHz
Gain:
0-22.5dB, software adjustable
USB INTERFACE

:



Analog inputs:

4 channel, +/- 5V, 16-bit A to D, 90dB dynamic range


Sampling rate:

24, 16, 12kHz


PC Interface:

USB 2.0
LxStrobe3 SOFTWARE:
LxStrobe3 has three modes
Live camera mode
generates flash triggers to light source

captures video to hard disk simultaneously with speech and Laryngograph® waveforms with choice of compressed (MJPEG) or uncompressed quality
mark good sections during recording with footswitch
snapshot mode to grab 1, 2 or 4 images direct to printer (no capture)

Movie player

replay recordings simultaneously with speech and Laryngograph® waveforms

instant access to marked sections
edit recordings
write clinical notes

Edit mode

multiple image view with marker on Laryngograph® waveform indicating the phase at which the flash occurred

montage view of a complete slow motion cycle
animation of a complete slow motion cycle
side-by-side phase synchronized comparison of stroboscopic recordings
generate print outs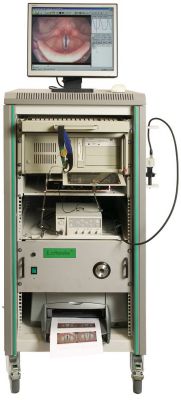 The picture (right) shows the LxStrobe3 system mounted on its trolley
(60 x 60 x 116 cm). It offers recording, playback and editing of high quality imaes, printing on industry standard printers and paper, random access and archiving with hard disk, CD or DVD+R/W, report writing with Word and links to other programs e.g. for EGG analysis.